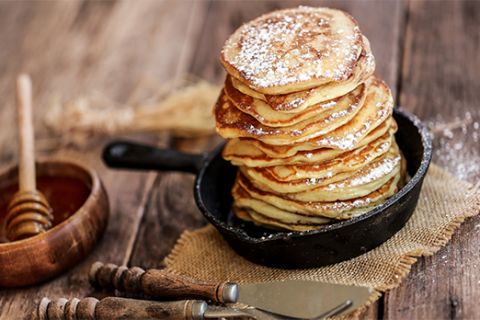 Recipe: Pancakes made on your wood fire cooktop
1 min read
A quick and easy recipe for pancakes that you can cook using the cooktop on your Masport wood fire.
This recipe is the perfect way to start a chilly winter weekend – simply get your fire crackling, whisk the ingredients together, and then cook using a cast-iron pan.
You'll need:
1 large egg
1 cup milk (or buttermilk for extra fluffy pancakes!)
1 teaspoon vanilla essence
1 cup of plain flour
½ teaspoon baking powder
¼ cup sugar
¼ teaspoon salt
2 tablespoons butter
Maple syrup
To make your pancakes:
Get your wood fire burning at a steady rate
Whisk egg, milk and vanilla in a large bowl
Add flour, baking powder, sugar and salt and give another quick whisk
Warm your skillet on top of your wood fire – towards the middle or back (depending on how hot the fire is burning)
Once your skillet is hot, add 1 tablespoon of butter (it should sizzle and start to melt straight away – if not, wait a few more minutes)
Pour or ladle pancakes into your skillet and cook until bubbles begin to break on the pancake surface – then flip and cook for another minute
Tips:
While your pancakes are cooking, try warming your maple syrup by placing it in a heatproof container towards the front of your fire
Add another pan with bacon for an extra indulgent breakfast!
Nothing beats a hot coffee on a cold morning – leave your coffee warming on your wood fire's cook top and enjoy throughout the day
Thinking about installing a wood fire in your home? Masport has been crafting quality wood fires for Australian homes for more than 40 years. Our wood fire range is designed to meet the needs of every Aussie home. See our full range here.